Overview
Miyajima Kangensai Festival is the graceful orchestra festival which is now ranked among the three finest float festivals in Japan.
Playing the Kangen instruments, which consists of Japanese traditional style flute, drums, and Japanese string, on boats floating on the Seto Inland Sea near Itsukushima-Shrine.
Itsukushima-Shrine, best known for its "floating" torii gate, is listed as a UNESCO World Heritage Site, and the Japanese government has designated several buildings and possessions as National Treasures.
Video
History
Approximately 800 years ago, Taira-no-Kiyomori (1118-1181), the warlord of the latter years of the Heian Period, constructed Itsukushima-Shrine and brought the then prevalent customs to this land in order to hold a ceremony dedicated to the gods.
This Shinto ritual, staged on the Seto Inland Sea, later developed into a graceful yet dynamic festival reminiscent of the Heian Period when the culture of the nobility flourished.
Religious Background
Shintou
Image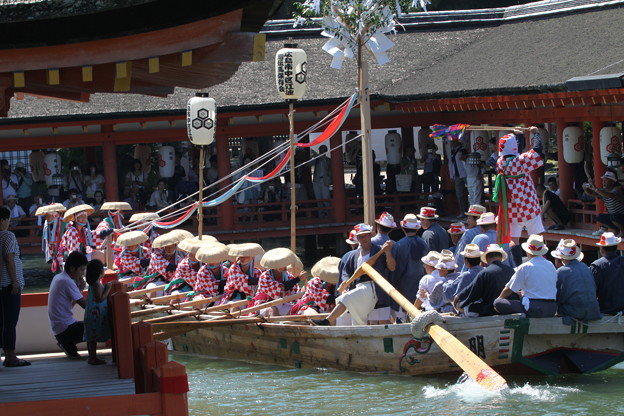 宮島管弦祭 posted by (C)Enjoy!一朗 EOS 5DMark ?
Date
Late July- Early August
(June 17th according to the lunar calendar)
Dates and functions are subjects to change without notice. Be sure to check the latest information in advance.
Location
Miyajima-cho, Hatsukaichi City, Hiroshima Prefecture
More information
https://www.jnto.go.jp/eng/spot/festival/miyajimakangensai.html